Description
Scaffold Safety Awareness
All companies using scaffold have a duty to ensure that it is inspected in accordance with statutory requirements and is safe to use at all times.
This is 4 hour course, with practical and theory as well as legislative content. Scaffold Awarness is suitable for all constuction staff and visitors to construction sites.
In order to comply with the Work at Height Regulations 2005, all scaffolds are to be inspected once every seven days (or following exposure to conditions likely to have affected its strength or stability or after any significant alterations have been made) and the inspection recorded.
This course is suitable for manager or supervisors responsible for employees working from a scaffold or delegates responsible for conducting the inspection and completing a site scaffold inspection register.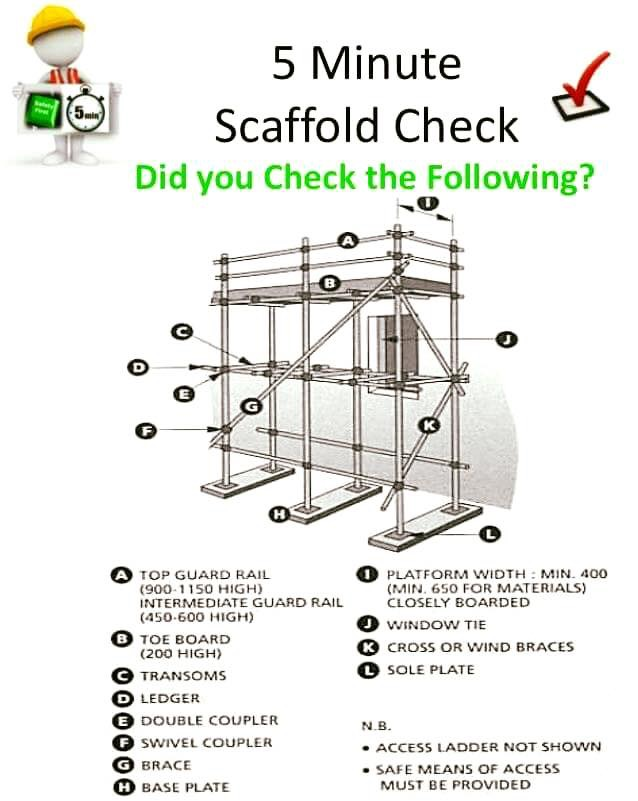 Course Content Programme
Overview of current relevant HSE Guidance, legislation, standards &  industry best practice
Scaffold components and structures
Requirements of NASC guidance SG4:15 and TG20:13
Access and egress (working at height hierarchy)
NASC e-guide and associated compliance sheets
Ratings of independent components
Inspection techniques – what to look for, typical problems
Miscellaneous issues e.g. hoists etc
Practical Scaffold Inspection Techniques
Additional items for example hoists, rubbish chutes, gin wheels, fans
Course mimimum duration 4 hours for groups of up to 12 delegates at youre site or premises.
Certificates provided on successful completion and are valid for 3 years
We operate course at your venue with a scaffold at site/premises if possible for up to 12 delegates.
Find us on : #google #linkedin #bing #yahoo #facebook #instagram
Booking via group booking on our web site.
We cover the West Midlands, Birmingham, Bristol, Bath, Gloucester , Cheltenham, Worcester, Hereford, Redditch, Manchester, Doncaster, Coventry, Nottingham, Oxford.
Take a look at our other safety training courses, you might find something to help your buisness.
Group bookings limited to 12 delegates, this ensures learning takes place, feedback sessions are held at completion of each course.
Find us on google maps or google my business.
#safety #training #firstaid #firesafety #sitesafety #toolboxtalks